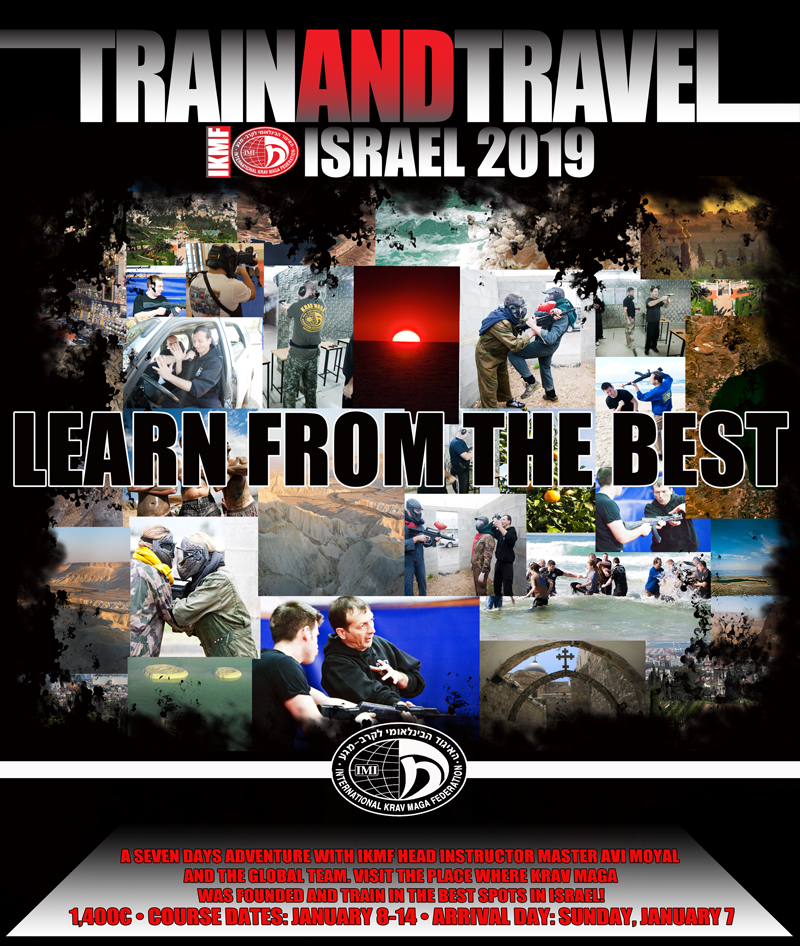 The Train & Travel is one of the most popular training events the IKMF offers. The popularity of this course is two-fold: it combines amazing training AND an opportunity to sightsee through Israel. This course is open to ALL levels of Krav Maga, including no experience at all, and families are encouraged to attend. During your time in Israel, you will have the opportunity to train with several members of the Global Instructor Team, the IKMF's highest ranked instructors.
IF YOU WISH TO COMBINE THE BEST KRAV MAGA TRAINING AVAILABLE WITH TOURING ISRAEL, THIS IS THE PROGRAM FOR YOU!
total cost is 1750 Euro per person, for 12 person minimum, Including: 3 star Hotel (B&B, double occupancy); Touring Israel (including entry fees to all locations); Private transportation to all locations; Krav Maga and related training.
TRAINING PROGRAM
The program is an intro course aimed to provide a taste of the variety Krav Maga has to offer. Therefore, every day will concentrate on a different Krav Maga sub category;
Law Enforcement training methods, developed by Israeli law enforcements units. Also, Participants experience Israeli firing techniques at a shooting range with certified tactical instructors.
VIP Protection intensive training following Israeli governmental executive protection units methods, emphasizing on first circle defense system.
Military: Learning to function under intense strain while implementing Israeli commando self defense techniques, and much more!
Civilian: Training sessions with Avi Moyal, following techniques developed by Imi Lichtenfeld himself!
Customized Krav Maga: A taste of additional training methods adapted for unique working environments; i.e.: CQB, Air marshals, close quarter battle situations.
Operational driving & car rage (by request): Learning how to operate a vehicle against car jacking or attacks inside the vehicle based on techniques developed by Master Avi Moyal for confidential factors of the Israeli government.
TOURING PROGRAM
Three days will be dedicated to touring Israel, spiced by on the tour trainning. (Locations may vary !!!).
The Dead-Sea: The lowest point on earth renowned for its medicinal qualities.
Jerusalem: Yad Vashem, the old city and the Western Wall, and the Church of the Holy Sepulchre.
Tel Aviv: Party in TLV, experience the city that never sleeps with its active night life, clubs, pubs and beautiful beach strip!
North Israel - The Galili ridge and sea.
TRAINING TIPS AND GEAR
Training Clothes: Bring enough clothes to last you for three training sessions (wash & hang in your room if you don't want to pack to much).
Training Gear: Groin protection is highly recommended. Also optional: mouthpiece, shin guard, hand wraps.
Training Shoes: when training in the gym wrestling shoes or barefoot. On outdoors training regular sneakers are fine. Bring an extra pair for water training.
Shooting range gear: If you prefer your own eye and ear protection when shooting, bring it; otherwise, it will be provided.
GENERAL TRAVEL TIPS
Israel is a small country with only one international airport, named "Ben Gurion". Remember your passport, wallet, international driver's license, health insurance card, credit card, ATM card.
Check to see that your ATM code works in Israel (verify with your bank); credit cards are accepted in most places.
Make copies of your important documents, and keep them separate from the originals.
Be sure to attach luggage tags to your suitcase.
Be sure to pack; sun glasses, sunscreen, bathing suit, travel towel, personal hygiene objects.
If there is a chance of visiting holy sites that day, wear short sleeved shirt, long pants closed toe shoes, and bring a hat.
Food is very good, relatively inexpensive and safe. For quick, filling meals, try "Falafel" (vegetarian), "Schwarma" (like Greek gyros, only better) and the many fruit smoothies. Israel is the country of milk & hony.
The beach at Tel Aviv is lively and safe late into the night.
This is the Middle East; don't expect American service, or manners, But you will feel the warmth and love of middle eastern hospitality.
Everyone speaks English...
BASIC HEBREW PHRASES
It's always nice to know a few local expressions. Most words are accented on the last syllable:
MAH NISHMA - How's it going?
SLICHA - Excuse me / I'm sorry
BEVAKASHA - Please
BESEDER - OK
EYFO - Where
LE-HIT-RAOT - See you later
BOKER TOV - Good morning
LYE-LA TOV - Good night
TODA - Thank you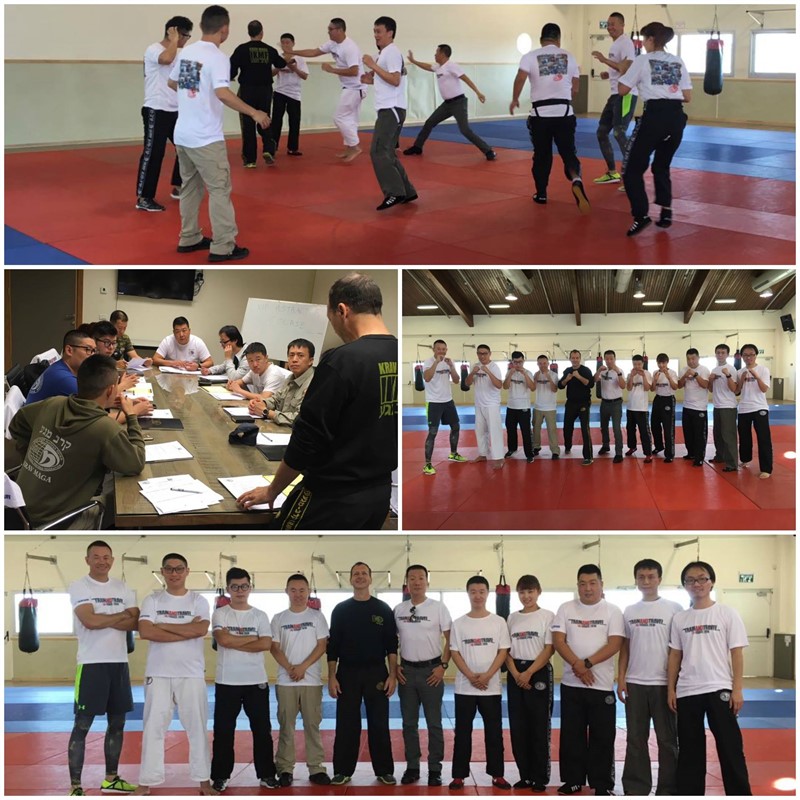 Chinese Train & Travel 2016
FOR further details or group registration please contact hq@kravmaga.co.il